WHAT IS A CREDIT SCORE
A credit score typically refers to the three major credit bureaus – Transunion, Equifax and Experian. A creditor such as a bank or utilities company will typically send payment history information to all or a combination of the credit bureaus above. The compilation of this data results in a credit score which is used by creditors to determine whether an applicant is qualified for a loan and the terms that would apply to that applicant based on his/her credit score. A credit score is very much like a quarterback rating. Most people have a pretty good idea of how a credit score is influenced but nobody really can tell you the exact formula that the bureaus actually use.
WHAT'S A GOOD CREDIT SCORE
Credit scores will range between 350 up to 900. The average credit score is usually range between 660 and 720. In order to purchase a home, you will typically be required  a 620 score or higher.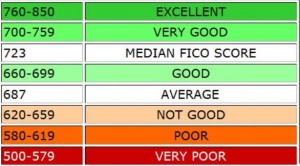 I Don't Have Any Credit, Can I Still Buy a House? (Alternative Credit)
Yes, you can still buy a home if you can provide alternative active accounts that have been open for 12 months or longer. You must provide a minimum of 3 active accounts. For example, if you pay auto insurance and your payments are made on time, you can use that as a trade line. Rent is a great one as well but you can also use cable bill, utilities, gym membership, etc. You would need to provide reference letters from the creditors in order to use that account to qualify.
I have a few collections, can I still qualify?
Yes, FHA and VA both offer very flexible terms regarding collections. Medical collections are mostly disregarded completely. Other collections may be acceptable but will be considered on a case by case basis. Please contact us for further information or a no obligation credit check.
How To Maintain Good Credit
If you already have a credit score and open active accounts, obviously the most important part of having a good credit score is to make payments on time. Besides that, credit balances on revolving accounts such as credit cards, will also play a major roll when it comes to how good a credit score is. If a credit card is maxed out, that can significantly drag down your credit score. Thirdly, the length of time that an account has been open will also make a big difference. The credit score formula strongly considers how long an account has been open. The longer the better because it demonstrates consistency and stability.
How To Build a Credit Score(No Previous Credit)
If you have never had any type of credit reported to the 3 major credit bureaus, the best way to start is to get 2-3 secured credit cards. A secured credit card is where you actually prepay the card and borrow against your own money. Try to stay away from regular high interest rate credit cards because they will typically take advantage of people with no or low scores with high rates, and ridiculous monthly or annual fees. Most secured credit cards on the other hand have very little fees and can typically be issued by your local bank or credit union. You can also just Google "secured credit card" and you will find many options as well. Unsecured and secured credit cards get reported to the credit bureaus the same way so they will both have the same effect on your credit score. Make sure you clarify that the secured credit card company reports to all 3 major credit bureaus.